In this age of value waste, much value is born and disappears.
As a manufacturer of food ingredients, Fuji Oil aspires to social contribution centered on the development of technology.
Today, however, it is becoming increasingly difficult to move people and society and continue making contributions in the form of universal value merely on the strength of ingredients and technologies.
In these times, Fuji Oil envisions a future in which new ingredients and the new technologies supporting them produce valuable and flavorful stories while nestling close to people and society.
Fuji Oil desires to spin stories with foods that are kind to people, society, and the earth and deliver great taste and health, and thereby to create new value together with our customers and consumers in general. These wishes lay behind our organization of the Oisi Kenko (delicious and healthy) Co-Creation Forum.
At the Forum, we proposed foods that were both delicious and healthy through presentations, events, and other activities.
Profile of the Oisi Kenko (delicious and healthy) Co-Creation Forum
Date: October 27, 2015
Place: Shinagawa Prince Hotel, Tokyo
On the occasion of the Forum
Opening remarks by Hiroshi Shimizu, President & CEO, Fuji Oil Holdings Inc.
Great taste and health may appear to be mutually opposing concepts. Nevertheless, foods will not be eaten if they do not taste good, and people will not become healthy if they do not eat them. Flavor and health are therefore interlinked. We also believe that the health of the earth in aspects such as resources and the environment is definitely linked with human health.
We also set co-creation as the theme of the Forum. To deliver health and great tasting food with the world's first premium soy milk of our own development, we asked culinary researchers to examine processes for its effective use. Subsequently, our soy milk came to be used by master chefs and in the products of manufacturers in the food industry, and have gradually spread to society. As we see it, besides producing "delicious and healthy" together with many parties in this way, the thrust of "co-creation" lies in inducing empathy and collaboration with this idea among consumers as well.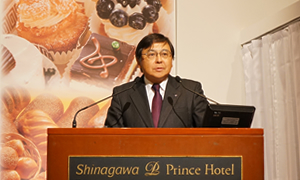 Co-Creation with Partners
A talk session with Co-Creation partners
Fuji Oil's Co-Creation partners occasioned the spread of dishes and products made with the premium soy milk it developed. It invited these partners to the talk session, which took co-creation activities for opening up new markets as its theme, to comment on their activities and thoughts.
The partners mentioned the great contribution to be made by premium soy milk to the popularity of Japanese cuisine, which is steadily rising around the world. They also pointed out the possibilities for expansion of the market to include children and aged in addition to health-conscious women.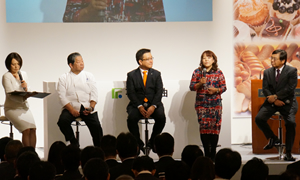 A talk session with Co-Creation partners
Junji Torigoe, President, Sagamiya Foods Co., Ltd.;
Keiko Matsumura, Food Sommelier;
Hiroshi Shimizu, President & CEO, Fuji Oil Holdings Inc.
Presentations by Co-Creation partners

The term "Soytalian" refers to healthy Italian-style dishes made with soy that were devised by Yasuhiro Sasajima, a master Italian chef at Il Ghiottone. Mr. Sasajima introduced dishes arranged in the Italian style that he created together with celebrity Anne, who acts as "Ambassador of the Soy Renaissance."
Yoshihiro Murata, a maestro in the field of Japanese cuisine, made steamed egg custard using premium soy milk as an example of a Japanese dish that could find favor around the world.

Toshihiko Yoroizuka, a leading patissier who presided over the session on confections, baked brownies made with low-sugar chocolate developed by Fuji Oil. He noted that chocolate which was delicious in spite of the lower sugar content was a prerequisite to prevent the confections made with it from losing popularity after a while.
Co-Creation with women who are sensitive to social trends
The Sweets Girls, a group of new models with their finger on the pulse of upcoming trends, introduced healthy sweets that are coming into vogue. These products were completed after a process of repeated sampling and discussion with the Sweets Girls. Three of these were introduced at the venue, and another seven were displayed.
Vegetable culinary expert Izumi Shoji prepared dishes for detoxification and beautiful skin for women from the audience who were invited to sample them. At the Soy Delica booth stocked with vegetable ingredients and materials, she served samples of dishes including healthy deep-fried ground pork patties made with plenty of vegetables under her supervision.
Mame Plus Café open for business on the site for just one day!
In the food-sampling area, Anne and chef Sasajima offered "Soytalian" dishes and other special treats available for that day only.
The café contained a special booth for "tiratisu." It displayed "tiratisu" made by 14 stores including Cozy Corner, and attracted keen attention among all the guests.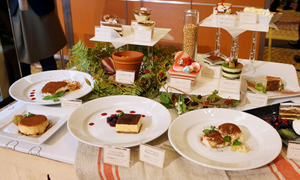 Various distinctive "tiratisu" from different purveyors
* What is "Tiratisu"?
One of the feature dishes of Soytalian cuisine is a kind of tiramisu made with MAME-MAGE, a cheese-like soy milk cream developed by Fuji Oil. It is characterized by its healthiness and mild flavor, which derive from its preparation with soy. It is a pastry item that makes a perfect gift for loved ones and embodies concern for them.
It was named "tiratisu," from the Italian "Tirati su!" which means "Give yourself a lift!" on analogy with "tiramisu," which comes from the Italian "Tirami su!" and means "Give me a lift!"
Food suggestions for "delicious and healthy"
At the Forum, we expressed Fuji Oil's vision with a combination of four stories and theme images. We presented new stories which we wanted to create together with the visitors along with food samples.
Vege Café
The café was based on the concept of vegetarian dishes that would be enjoyed by both vegetarians and people who love beauty.
It served dishes that despite being entirely vegetarian were delicious and hearty, and they included vege-burgers and vege-keema curry containing soy meat.

Soytalian
- Accenting the flavor of ingredients -
"Soytalian" is a healthy type of Italian cuisine with a gentle flavor prizing subtle nuances. The use of soy milk and soy materials accents the inherent taste of the other ingredients.
Guests sampled salads, pinchos, pizza, and other dishes made with MAME-MAGE, a cheese-like soy milk cream.
Slow sweets: patisserie
- Gentle to the body – also delights the soul -
Slow sweets add concern for the body to sweets, which nourish the soul. Guests enjoyed an assortment of delicious low-fat, low-sugar soy milk sweets.
Among the sample items were tart made with low-sugar chocolate and shortcake made with ultra low-fat cream.

Mama Café
- Health and concern for our children as creators of the future -
Mama Café nurtured both body and soul with the delightful natural flavors and colors of soy ingredients and vegetables. It put big smiles on the faces of both mothers and their children.
The café served pumpkin souffle rolls and other sample items for delicious intake of the nutrition in vegetables and soy beans.